CRM Requirements Checklist & Free Template
Blog Credit: Austin Caldwell, March 7, 2022 (CRM Requirements Checklist & Free Template | NetSuite)
A customer relationship management (CRM) system can be a game-changer for almost any business. By centralizing customer information and automating marketing, sales and customer service functions, a CRM solution can help drive sales, boost customer retention and increase productivity. But you'll only realize those benefits if you choose a system that effectively addresses your needs. Because a CRM supports a wide range of processes across multiple departments, defining those requirements can be a time-consuming and arduous process — but one that is critical for success.
Achieve Better Business Results with NetSuite & Circular Edge
Grow and scale your business while gaining a competitive advantage with NetSuite's best-in-class integrated cloud business software and Circular Edge's expertise in NetSuite implementation, advisory, managed services and direct staffing. Let us show you how to leverage our direct staff pool of resources to realize better insights, organizational efficiency, increased profitability and improved relationships with your suppliers and customers – and ultimately take your business to the next level.
Contact Circular Edge today to learn more about our NetSuite consulting services.
What Is a CRM?
A CRM system helps companies manage all of their interactions with potential and existing customers. It provides a central hub for storing information for each prospect and customer, together with a record of each interaction with the customer. A CRM system also automates many marketing, sales and customer service functions. Marketers can use a CRM to target prospects and analyze the success of marketing campaigns; sales groups use the system to follow up on leads and track the sales pipeline; customer service groups can work more efficiently and improve customer support.
7 Top Questions to Ask Before Choosing a CRM
Because every company is different, and a CRM plays such an integral role in business operations, each organization typically has some unique requirements. A bank's requirements are unlikely to be exactly the same as those of a construction company, the needs of a hotel chain will differ from those of a nonprofit social services agency. This is a key reason why it is critical to perform a detailed requirements-gathering process before selecting a CRM solution. Here are some essential questions to consider when you're starting that process:
What are you trying to accomplish? It's easy to become fixated on impressive product features — but without a crystal-clear vision of what you want a CRM to do, you may end up with a solution that doesn't meet your needs. Start developing your requirements checklist by gathering internal stakeholder input about the organization's biggest pain points and desired outcomes. And think about whether you want the benefits of a full-featured system or you just need basic contact management software that replaces sticky notes and spreadsheets.
What's your budget? Starting out with a realistic idea of how much you can spend helps you set priorities and ensure you only evaluate products you can afford.
How much IT expertise do you have? On-premises CRM systems need more IT expertise than cloud-based systems because companies need hardware and software specialists not only to install the system, but also to keep it running.
What are your growth plans? Think about your future growth as well as your immediate needs. CRMs designed for mom-and-pop shops are much simpler than those designed for sprawling multinationals. But look for a system that supports your planned business expansion, so you don't choose software that limits your growth.
Do you have unique business needs? Companies in some industries, such as construction, financial services and nonprofits, may need specific features that not all CRMs provide. Look for suppliers with a track record in your industry and determine whether they can provide the sector-specific features you require.
Do you need mobile and remote access? Most companies need to provide employees with access when they're out of the office. That includes not only salespeople who need to access the system when they're on the road or at customer sites, but also other employees working from home.
What are your integration needs? A CRM is much more powerful when it's integrated with other systems. CRM systems integrated with finance, inventory and ecommerce modules provide organizations with a more complete view of customer activity and a better ability to solve customer problems. For example, marketers can analyze customer purchases across all channels, and customer service agents can view inventory availability in response to customer requests.
Core CRM Features
Comprehensive CRM solutions integrate support for three main functional areas: marketing automation, sales force automation and customer service. A CRM should also provide extensive reporting and analytics capabilities to help track business performance and inform decision-making.
Marketing
A CRM helps marketers manage campaigns across multiple channels, such as email, phone, web and social media. The system helps companies target customer segments or individuals with tailored messages, then compares the success of different campaigns so the company can use its marketing budget to the greatest effect. For example, a bookseller can promote a new thriller to readers who have previously bought similar books. A car-repair shop can automatically reach out to customers whose vehicles are due for a service. When a potential customer completes a form on the company's website, the system can automatically create a new lead and pass it to sales.
Sales
Sales force automation is a primary reason that many organizations invest in a CRM. CRM systems include multiple tools specifically intended to make the sales process more efficient and effective. These may include:
Contact management: This function stores customer and prospect contact info, tracks customer interactions, helps salespeople book appointments and reminds them to follow up on existing leads.
Collaboration tools: These help sales teams share information.
Lead assignment: This tool assigns incoming leads to salespeople, according to predetermined rules.
Pipeline management: This CRM function defines stages in the sales pipeline and tracks progress as prospects move through the sales process.
Quotes: Some products automate generation of customer quotes, using product and pricing information.
Customer service
A good CRM can transform customer service and support by automating routine tasks and empowering agents by giving them much more information. Key functions include:
Case management: The CRM creates new cases for customer problems, escalates cases according to company protocol and tracks each case to resolution. Cases may be automatically assigned to different staff or groups.
Support for multiple channels: Some CRMs support communication via email, text, online chat and phone. The CRM may enable agents to track a customer's interactions across all these channels.
Customer self-service portals enable customers to contact the support group, submit problems and track case status. Other features may include establishing a knowledge base of solutions to common problems.
Scenario automation lets agents execute several actions with a single mouse click — such as flagging a customer's file to indicate that they didn't receive their shipment and sending a request to the shipping department to mail a replacement.
Business reporting and analytics
Many CRMs include robust analysis and reporting tools that support sales, marketing and customer service. Managers and other employees have access to prebuilt and custom reports, such as monthly sales reports. Leading CRMs also include personalized dashboards that provide each person with a real-time view of key metrics and other important operational data. For example, marketing specialists can compare the effectiveness of different campaigns, sales managers can analyze team performance against sales quotas, and customer support groups can track call volumes and resolution times. The analytics tools can also be used by others within the company, including the CEO and CFO, to monitor and improve business performance.
Advanced CRM Features
Sophisticated CRMs may offer additional, more advanced features such as:
Planning and forecasting. Companies can create more accurate and reliable sales forecasts by analyzing current opportunities and pending deals, considering the probability that certain deals will come to fruition. These forecasts are valuable not only to the sales team but also to the company's top executives and finance team.
Social media integration, which enables businesses to communicate with prospects and customers via social channels such as Facebook or Twitter. Marketers can deliver messages to targeted audiences, while customer support can respond to reports of problems. Marketers can also gather information from social media to better analyze customer sentiment and help refine marketing campaigns.
Industry-specific features. Such features are very important in some sectors. For example, an insurance company may have specific ways to manage policies and applications, and document workflow. Construction firms need to track proposals, projects and work orders. Nonprofits may need unique capabilities to track fundraising events and other efforts.
Business partner relationships. Leading CRM systems help companies manage partner relationships, including joint marketing efforts, lead management, commissions and sales forecasts.
Types of CRM Requirements
It's helpful to define the CRM requirements at different operational levels, to ensure that the chosen solution meets all goals — from broad business objectives to performance and usability requirements.
Business requirements. This is a high-level analysis of problems and possible solutions. Input from managers, staff in each department, customers and anyone else affected by the system may help articulate these requirements. Companies often create a list of use cases that describe specific issues, ideal solutions and the potential benefit.
Functional requirements describe in more detail each of the functions that the CRM must provide and why, sometimes with examples of how the system would be used by specific roles within the company. For example, it might define specific sales pipeline stages that the CRM should support or requirements for tracking client interactions across channels.
User interface requirements describe the look and feel of the CRM. Experts agree that if your CRM is not easy to use, then people won't use it to its full potential — or won't use it at all. The CRM interfaces should be intuitive, while also supporting personalization for different roles and minimizing the number of operations needed for common tasks. Ideally, the look and feel should be similar to the company's other business applications, to minimize the learning curve for employees.
Nonfunctional or technical requirements describe performance, availability and other aspects of the system. These factors may include:

System availability. How much system downtime can your business tolerate?
Scalability. Can the CRM support your company's growth — and do so without requiring expensive and time-consuming software upgrades?
Backup. How often, how and where will the system back up your data?
Disaster recovery. What protocols are in place to help your business recover from a tornado, hurricane or other natural disaster?
Security. Protecting customer data is critical. Considerations include access controls and data encryption.
Identify CRM Requirements
Defining CRM requirements is important but can be challenging, in part because CRM solutions support multiple groups. But this definition is also essential: A company must understand its objectives before it selects a system. Focusing solely on features and pricing without a clear understanding of business needs can result in choosing a system that doesn't actually improve desired business outcomes. A smart and important first step in the requirement-identification process might be to view product demos and talk to suppliers early in the process, which may in turn generate ideas about how CRM systems can help the company and identify the functions they can support.
How to Build a Requirements List
Several strategies can help organizations build a comprehensive requirements list that accurately defines the company's needs:
Look at the big picture. Get input from executives and other senior stakeholders who can identify business goals and key issues at a high level. They may rarely use the system — but they will rely on it for access to information about how the business is doing.
Talk to employees who will use the system. The people who will use the CRM system can provide real-world insights into current problems. Ask them what features will help them be successful at their jobs.
Monitor how employees actually spend their time. Examine how people perform day-to-day tasks, to zero in on which are the most problematic and time-consuming. Is everyone following the same process?
Identify all possible ways the system may impact operations. Identify every function potentially impacted by the system. You don't want to solve a problem in one area only to create another problem elsewhere.
Rank your requirements. You may need to compromise, if available solutions do not match 100% of your requirements. Ranking requirements helps determine which features are essential and which are just nice to have.
Outside experts can help. Consultants with extensive CRM experience can help determine how specific solutions meet business needs.
CRM Requirements Checklist
Because every company is different, most companies have at least a few CRM requirements that are unique to their organization. However, a number of common requirements appear on most requirements checklists.
Sales force automation (SFA) is a key CRM requirement for many companies. It includes a set of functions that automate everyday tasks, such as contacting prospects, to help salespeople convert leads into sales. It enables employees to track their interactions with potential and existing customers and prompts them when they need to follow up.
Contact management is a vital aspect of sales force automation. It centralizes customer contact information, replacing scattered personal address books, spreadsheets and handwritten notes. It stores names, addresses and email addresses for your customers, prospects, leads and, potentially, suppliers. Contact management tools also store details of each customer interaction and help employees manage appointments.
Sales opportunity tracking within SFA helps track and drive every step in the sales process. It follows each prospect throughout the sales pipeline, providing managers with up-to-date information about current and future sales revenue, as well as the ability to compare the performance of sales team members.
Marketing automation offers a variety of functions to improve marketing efficiency. That includes the ability to target segments of your customer base, setup autoresponders and manage multichannel campaigns.
Marketing tracking includes tools for analyzing the results of specific campaigns. Marketers can also use these tools to compare performance by channel — for example, email, website and social media.
Lead management spans marketing and sales. It includes functions for generating leads (such as by pulling data from an online form on your website), as well as prioritizing them and automatically assigning them to a salesperson.
Customer service. CRM systems should include powerful features that help agents more efficiently support customers, thus improving customer satisfaction as well as agent productivity. Agents should be able to quickly and easily create and track cases in response to customer issues. When customers contact the company, the system should be able to quickly retrieve all relevant customer information, including order status, current cases, invoices and purchase history.
Self-service features can improve customer satisfaction and lighten the load on customer-service departments. Some CRM systems allow customers to create and track cases themselves via a portal. Providing online FAQs and solutions to common problems can help customers get answers more quickly, while freeing agents to focus on more complex customer issues.
Knowledge management, while not necessarily a standard feature of CRM systems, can be useful in that it helps companies capture and share employee knowledge to improve organizational performance by both identifying what works and finding bottlenecks in your processes. It can help you identify winning strategies used by successful salespeople and share those strategies with the rest of the team.
Workflow automation handles mundane repetitive tasks so that employees can focus on interactions that add value. For example, workflow automation can schedule appointments, send reminders, share calendars or send posts to social media.
Data management. A CRM holds some of the organization's most important data. It's vital to protect it well, but it's also important to share the insights it provides across the organization. A CRM that's integrated with other enterprise resource planning (ERP) applications enables companies to maximize the value of the system. Customer service, marketing and sales groups can access inventory, sales and payment information to operate more efficiently and increase customer satisfaction.
Business intelligence is about slicing and dicing the data in your system to get the information you need. Do you want to know how many customers are lost after they've done business with your company for six months or longer? Do you know the most common reasons why customers say they want refunds? A good CRM should help answer these questions, using customized reports and other analytical tools such as dashboards.
Mobile support. Unless every CRM user is in your office 100% of the time, you'll need mobile support. Your salespeople should be able to access up-to-the minute data while on the road, and you may also want your customers to be able to access certain data, such as checking when their next payment is due.
Data security. When you're storing customer information, data protection is vital for privacy and compliance reasons, as well as for your competitive advantage. Cloud-based solutions can often enhance security, because leading providers of cloud-based solutions typically have the resources and expertise to provide better protection than most businesses can build themselves. Some systems include audit trails that enable companies to track exactly who accessed exactly which data and when.
Data migration. Whichever system you choose, most companies will need to migrate data from existing applications. It's important to examine how easy or difficult that process will be. You'll want to be sure the migration is seamless, and that data isn't corrupted or lost in the process.
Free CRM Requirements Template
A customizable CRM requirements template can provide a good starting point for listing your needs. You can use this downloadable template to build a checklist of your necessary features, and home in on a system that meets the organization's needs.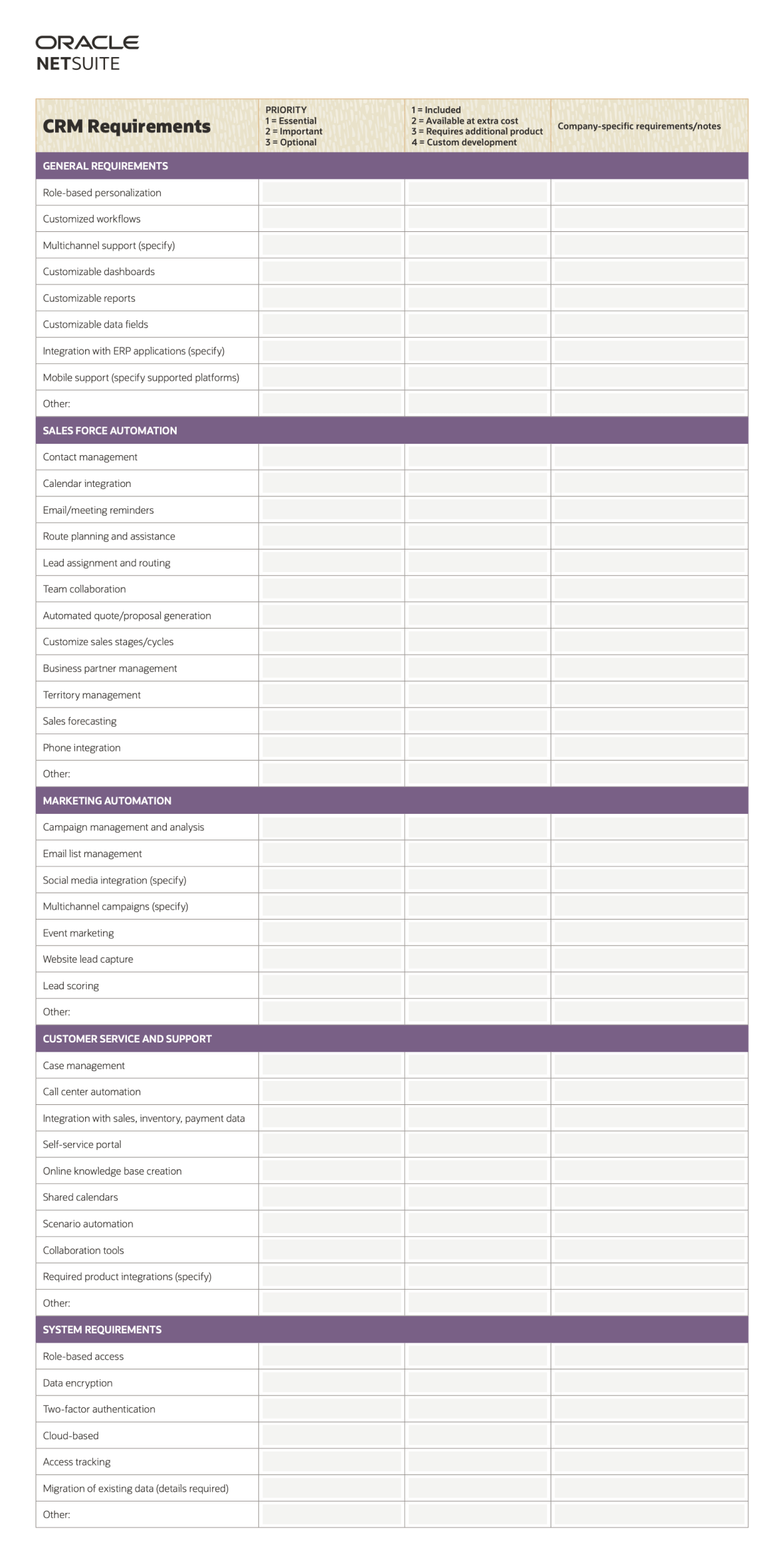 5 Tips for Your CRM Search
Armed with a set of clear requirements, you'll be in a good position to search for the right solution. Here are some tips to optimize the search:
Stakeholders throughout the selection process. Marketing, sales and customer service groups should be involved not only in defining the requirements for the system, but also in verifying that the solution actually provides what they need. If they aren't happy with it, they may not use it.
Formalize the requirements. Be sure all stakeholders are happy with your requirement documents before you start using them to evaluate products. A requirements template can help marketing, sales and customer service groups quickly check whether the requirements meet their needs.
Rank and prioritize. You may not find a CRM system within your budget that will provide every single function that every single user wants. Prioritizing the requirements enables the organization to make the compromises necessary to identify the best solution.
Trust the process. Drafting a requirements document can be a marathon process. Accept that reality and recognize that any pain you experience as people haggle over the process or details will save you pain once the CRM is in use.
Define your success factors. How will you know if the CRM you ultimately choose is a success? That's not something you want to debate after the fact, so define how you'll measure success before you purchase a solution. Companies often measure CRM return on investment (ROI) in terms of improved productivity, lower cost per lead or new customer, higher customer satisfaction, or employee buy-in.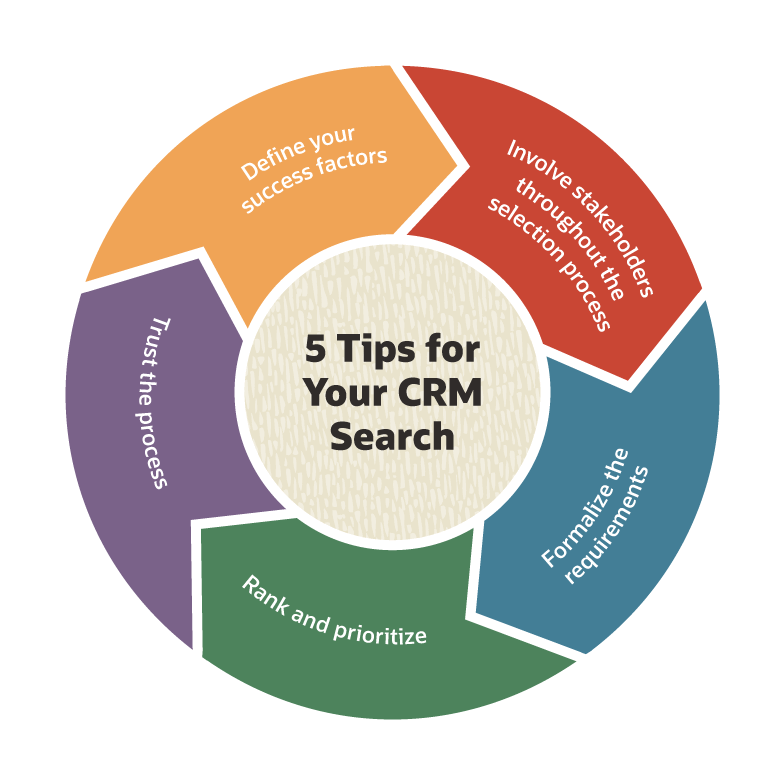 Conclusion
Defining CRM requirements can be a lengthy process, but a good requirements checklist can help companies ensure that the solution they ultimately buy meets their needs. The rewards of choosing the right CRM solution can include increased revenue, longer-lasting customer relationships and reduced costs due to greater productivity in sales, marketing and customer service.
CRM Requirements FAQs
What are the requirements of a CRM?
Most companies share some common requirements, but also have needs that are unique to their organization. Requirements typically include support for sales force automation, marketing automation and customer service. Requirements should explicitly spell out the business issues that you are trying to solve, the functions that the CRM must provide, how it will execute those tasks and the user experience it should deliver. Developing requirements typically involves a wide range of committed stakeholders and may take weeks or months to complete.
What are CRM skills?
There is growing demand for professionals that can help implement CRM systems and use them to develop customer relationships. Professionals generally possess a variety of qualities, including skills in communicating with others inside and outside the organization, lead management and analysis, collaboration and social media engagement, as well as a degree of technical experience.
What are the three types of CRM?
CRM systems are sometimes classified into three broad types, although comprehensive CRM systems combine the capabilities of all three types in a single solution:
Collaborative CRMs focus on enhancing collaboration among departments by ensuring that all departments have access to the same information.
Operational CRMs use automation to streamline customer interaction. This frees up time for people to handle more complex tasks or problems, and helps companies standardize core tasks.
Analytical CRMs focus on analyzing customer data so that companies can better understand who their customers are, how they behave and how to retain them.
What are examples of CRM?
The ways in which businesses can use CRMs to enhance marketing, sales and customer support may be limited only by one's imagination. A few examples: A CRM can help companies target subsets of their total customer base and conduct and analyze multichannel marketing campaigns; sales automation features facilitate contact management, lead assignment, sales performance analysis and sales forecasting; and customer service features can automate case creation and management, and provide support for multiple channels, such as online chat, email and text.